Another « Trainer ».


« DarkMan » is a game released on 1991 and was about the movie of the same name (Sam Raimi). The game was quite good (fighting and platforming). I met one new programmer Fabrice « Mister M »/ »Man Hunter » who was living in the same town, and neighour of one of my past good school friend. Fabrice was from apple2 computer and started coding on Amiga. We decided to create one trainer for the « Darkman » game. I can not remember why 🙂 We coded one nice intro (I guess too nice for « just » one trainer).
Here is the video:
Full code and data here: Trainer_Darkman.zip
Art:
The nice arts have been done by Kreator. The big HAWK logo is really wonderful. In fact it have been done for our next mega demo, but we also used it in that trainer.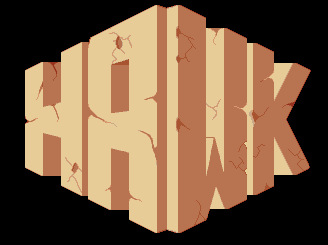 Music:
The group « T.S.F » (see previous part) have changed to new group called « Concept ». Tebirod is now active member. He nicely composed one music for us.
Code:
I remember having done the code of the intro, but not trained the game. So surely Fabrice have done it. You can see the source code here: TRAINER.S
Trainer texts:
; TRAINER BY ORIENS FROM HAWK
; TRAINER TOO BY MISTER M' THERE CAN BE ONLY ONE HUNTER.
;    dc.b     »                                         »
dc.b     »           IT'S TRAINER TIME             »
dc.b     »          50 % INFINITE LIVES            »
dc.b     »           50 %  START LEVEL             »
DC.B     »          100 %  TRAINER !!!!            »
dc.b     »                                         »
DC.B     » CREDITS GO TO :                         »
dc.b     » code by ORIENS/HAWK and MISTER M/HAWK.  »
dc.b     »     trainer by MISTER M and ORIENS      »
dc.b     »       logo drawn by KREATOR/HAWK        »
dc.b     »    music composed by TEBIROD/CONCEPT    »
dc.b    « darkman logo pixelled by  MISTER X/OCEAN »
dc.b    « fonts ripped from rambo and mastercopier »
DC.B     »  fonts on this menu page by METALLION   »
DC.B     » GREETINGS CRAWLING TO OUR FRIENDS :     »
DC.B     »    JOHNNY-B/HAWK (WE THINK TO YOU!)     »
DC.B     »  BISOUS A ACES-TEBIROD-EUREKA/CONCEPT   »
DC.B     »         DINO-TDC-KICKMAN-WOOKY          »
DC.B     »    WINNIE AND INTOX FROM  T.G.M.S.C     »
DC.B     »                RHOD-SCUD                »
DC.B    « JBG(THANK FOR THE CYCLONE'S INVITATIONS) »
DC.B    « CHRIS-WE'LL BE AT THE NEWYEAR CONFERENCE »
DC.B     »            AND NO ONE ELSE              »
DC.B     »    BECAUSE WE HAVEN'T FORGET ANYONE     »
dc.b    « —————————————- »
dc.b     »                  HAWK                   »
dc.b     » DON'T THINK HAWK IS AN ILLEGAL GROUP !  »
dc.b     »        WE DID THIS ONLY FOR FUN         »
dc.b     »                                         »
dc.b     »  THIS WEEK, AVAILABLE ON YOUR SCREEN:   »
dc.b     »   DROL FROM BRODERBUND, THE TRAINER!    »
dc.b     »                AH YEAH!                 »
dc.b     »                                         »
dc.b     »        IF YOU WANNA CONTACT US!         »
dc.b    « LOOK AT OUR ADDRESS IN OUR 1ST MEGADEMO. »
dc.b     »                                         »
dc.b     » ET PUIS,C'EST PAS PARCE QU'ON N'A RIEN  »
dc.b     »  A DIRE,QU'ON DOIT FERMER SA GUEULE !   »
Darkman, the game
Here is the game
Cool demo of that time
Elysium by sanity (april 1991)