Hello. My name is Christophe KOHLER. I'm 44 year old (in 2018, born in 1973) and working as video game creator since 2000. When I was young, I've been involved in the Amiga demo scene during 9 years (from 1989 to 1998). I was 16 years old at the time and had really lot of fun using Amiga computers. I am french, today living in south of France.
I took much pleasure writing these pages. First because it reminded some good memories. And secondly because I wanted to explain how the amiga computer worked and present what we did on it. If you learn something, then I would be glad.
The whole blog is still in « work in progress », this require time. So come back later to have some more articles finished.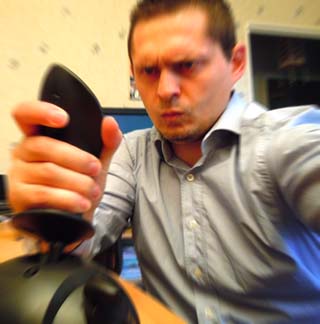 Here is the list of all articles: (Some are now written yet, so there may be some « gaps » in this blog)
Step1: Definition of a « demo » (Jan1984)
Step2: MO5 – Programmation – 1985 (Jan1985)
Step3: C64 – CPC – Intros – 1986 (Jan1986)
Step4: Atari ST – 1987 (Jan1987)
Step5: Amiga – How I discovered « demos » – 1988 (Jan1988)
Step6: Choosing a nickname (Jul1988)
Step7: Programming on an Amiga 500 – 1989 (Jan1989)
Step8: HAWK « First demo » November 1989 (01Nov1989)
Step9: What can I do with a computer ? (5Nov1989)
Step10: Intros for Dino, End 1989 to May 1990 (10Nov1989)
Step11: 68000 Motorola Processor (15Nov1989)
Step12: Programming softwares (Devpac, basic, …) (20Nov1989)
Step13: Creating musics + Audio processor (25Nov1989)
Step14: M.A.D, cracking band, November 1989 (30Nov1989)
Step15: Copper (Dec1989)
Step16: « The Strike Force », July 1990(01Jul1990)
Step17: Chip mem / fast mem (05Jul1990)
Step18: Amiga Commercials in France (10Jul1990)
Step19: Vocabulary – Part 1 (15Jul1990)
Step20: Bitplanes are evil (20Jul1990)
Step21: Blitter (25Jul1990)
Step22: HAWK Mega demo – August 1990 (01Aug1990)
Step23: It's Party time! Cyclone demo party – Aug 1990
Step24: Failing school because of heavy code – Sept 1990
Step25: Programming lessons
Step26: Deluxe Paint
Step27: Hawk Game « racing » – Sept 1990
Step28: Amiga OS (Workbench 1.3)
Step 29: Consoles – Everything I missed
Step30: Paradox Menu – 1990
Step31: « VBL » and « IRQ »
Step32: Concept Tune Disk – 1990
Step33: Bootblocks
Step34: Vocabulary – Part 2
Step35: Making some money with code – 1991
Step36: Trainer « MegaPheonix » by « Quartix » – Aug 1991
Step37: Measuring execution time
Step38: Trainer of game « DarkMan » – Sept 1991
Step39: « The remember collection » – Nov 1991 (unreleased)
Step40: Bitmap Font
Step41: Concept « 3d Editor » Intro – Dec 1991
Step42: Logos – How to do a nice logos, examples
Step43: Scanning videos
Step44: Demo « Bruno Carette » Tribute – Dec 1991
Step45: Hawk Mega Demo II « Earth's sorrows » – Dec 1991
Step46: Doing 3D
Step47: Iris New Year Conference – Dec 1991
Step48: Amiga OS (Workbench 2.0) Amiga plus, Amiga 600. (1991)
Step49: Micro Kids – Dec 1991
Step50: Customizing Amiga 500
Step51: Intro « Rtatdvg » – Fev 1992 (unreleased)
Step52: Utility disk – 1992
Step53: Storyboard – May 1992
Step54: School Project Demo – Jun 1992
Step55: Tools, my favorites
Step56: Fuck Demo – Melon Dezign – Jul 1992
Step57: Hawk game 2 – Shoot'em up – Jul 1992
Step58: Atari ST Demo by « 1984 » – Sept 1992
Step59: Atari / Amiga war
Step60: Effects lexical, vocabulary part 3
Step61: Entering High School – Sept 1992
Step62: Amiga 1200 – Dec 1992. Amiga 1200 (Workbench 3.0)
Step63: Intro « Laser » – Mar 1993
Step64: Bar'n'pipes 1993
Step65: PC and amiga (arrivée du PC) 7th guest, futur crew / second reality 1993
Step66: Fighting game – Fev 1993
Step67: Replicants intro AGA (unreleased) – 1993
Step68: Tool – Player music equalizer effect AGA (unreleased) 1993
Step69: Les Shadock Demo – Jul 1994
Step70: Saturne 1994 (3eme demo Shadock)
Step71: Favorites arts
Step72: Party IV – Dec 1994
Step73: SlideShow Party IV – Dec 1994
Step74: Hardware customisation of A1200
Step75: Final writter , nouvelle carnage
Step76: Article in DiskMag – Dec 1995
Step77: Playstation 1 is here!
Step78: Favorites musics
Step79: Tool – Image processing – 1995
Step80: Les Shadock – Intro « Ga » (unfinished) – Apr 1996
Step81: Saturne 1996. Intro ga. (2nd Amiga Intro)
Step82: Trip to Italy – Jun 1996
Step83: Countries of sceners
Step84: Tool – SlamTilt joiner – Nov 1996
Step85: Music disk – Chunky Funky (unfinished) – 1997
Step86: Game – Bode Runner – 1998
Step87: Effects lexical, vocabulary part 4 (AGA)
Step88: Intros source codes
Step89: Demomaking today
Step90: Emulation (rip de textures sur Wild Street)
Step91: Link to cool Amiga sites
Step92: What demomaker have become ? (« famous » people) / Stepxx – What they are doing now ?
Step93: Revision 2017 – Blast from the past
Step94: Preparing Revision 2018 – Alice in wonderland
Step95: Revision 2018 – The Fall